Industrial Motion Solutions
You'll find Allied Motion's motors and gear motors, as well as our drives and feedback devices, in "job-site" tools like welding wire feeders and conduit bender, in warehouse material handing lift trucks and robotic stock handlers, and many other industrial motion applications.
Robotic wafer handling has become a necessity in the closed environments used in advanced semiconductor wafer fabrication. Robotic handlers transfer and load/unload wafers within a cluster of processing tools.
Near Infrared Transmittance (NIT) is an accurate analysis method for grain (and some other products) to quickly determine characteristics such as protein and moisture content.
The commercial maintenance equipment industry demands motors and drives that are not only able to stand up to hard daily use in inhospitable environmental conditions but that are also cost-effective to apply.
Compact, rugged, and mechanically simple diaphragm pumps can handle either fluids or gases with equal efficiency and reliability.
Quickly identifying items in high throughput environments like production lines, or luggage or parcel handling systems, is usually done with barcode scanners.
High speed inkjet marking systems on virtually always used for industrial on-the-fly case, carton, and product marking and labeling.
Industrial laser machining systems are used in many industries from metal cutting and drilling to the precision micromachining of semiconductor wafers.
Heavy bolted joints require torque levels only available with hydraulics. Electrically powered portable hydraulic torque wrenches offer the power needed for this application along with the convenience of a compact, portable unit.
Industrial tools such as welding wirefeeders require rugged, compact, and ultra reliable gear motors.
Material movement in factories and warehouses is becoming easier and safer with the advent of robotic material handling carts.
The U.S. Postal Service processes over a billion packages a year, and virtually every one is sorted and sent on its way using Allied Motion motors and gear motors.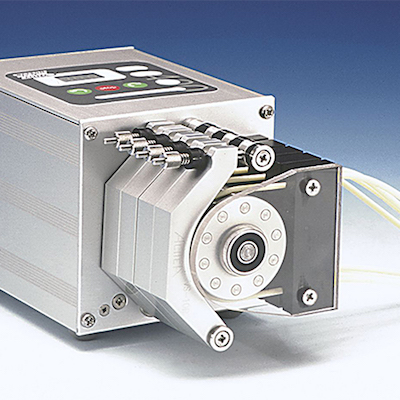 Positive displacement peristaltic pumps are a simple yet efficient means of handling liquids or gases in medical, laboratory, and industrial applications.
Optical Critical Dimension (OCD) spectroscopy is a key technology used for optical metrology and process control in semiconductor manufacturing.
Accurately and precisely dicing semiconductor wafers into discrete die requires high response servo motors for the X, Y and Z axes and a high speed brushless spindle motor for the diamond dicing saw.