Precision Gears and Gear Assemblies
Allied Motion is a world class designer and manufacturer of precision gearboxes, ranging from 1/2" up to 7" diameter (12 - 178 mm). The gearboxes that we manufacture get fully integrated into our gearmotor systems and are used across a diverse number of industries and platform applications.
Examples of Industries and Applications Served
Aerospace & Defense

Door Actuation, Military Robotics, Munitions

Agriculture

Automated Seeders, Harvesting Combines, Electric Lawn Mowers

Commercial and Industrial

Gate and Door Actuation, Welding Wire Feeders
Medical

Mobility Applications, Powered Hand Tools, Surgical Robotics

Robotics

Military, Medical, Warehouse, Industrial

Vehicles

AGV's, Farm Equipment, Military Ground Vehicles (Troop Transport), RV Awning Slide-Outs
Our global team of engineers have decades of experience in designing and manufacturing several gear types including Helical, Spur, Worm, and Epicyclic gearing. These gears are then used within a variety of gearboxes and motor assemblies including:
Planetary Gear Motors
Right Angle Shaft Gear Motors
Parallel Shaft Gear Motors
Transaxle Gear Motors
Wheel Drive Assemblies
Epicyclic Gears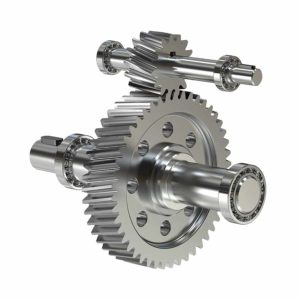 Helical Gears
Spur Gears
Worm Gears
Expertise Where It Matters
Allied Motion works with your team to meet your specific design requirements - including size, configuration, performance, material type and more. We produce hundreds of thousands of gears annually and can meet all design and manufacturing requirements in-house including machining, inspection, and engineering analysis.
Questions about our capabilities? Give us a call (716) 242-7535