Robotics & Unmanned Vehicle Programs
Aerospace & Defense Motion Solutions
Allied Motion's products and systems are in use in a very wide range of unmanned vehicle-related applications such as AGV traction and steering, military tracking and fire control, gimbal motion control, satellite tracking and many others.
Allied Corporate Overview
Electric Steering & Traction Solutions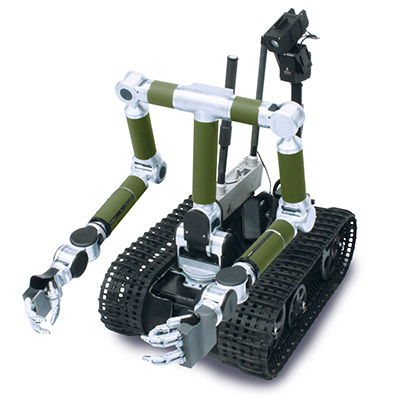 Dual-Arm Military Robot
Shown here mounted on the robot's mobile base is a dual-arm robotic manipulator system that is capable of lifting 110 lb (50 kg) and handling a myriad of field missions with human-like handling abilities.
Each arm assembly utilizes Allied Motion brushless torque motors to achieve 20 degrees of freedom, giving the arm unmatched dexterity. The arm has a load capacity of 50+ lb (22.7 kg) but a total mass of only 16 lb (7.3kg).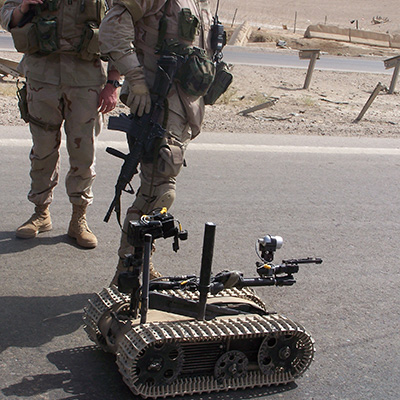 Military IED Disposal Robot
Improvised Explosive Device (IED) disposal robots perform a critical role on today's battlefield. These robots need to be extremely rugged and reliable yet lightweight and easy to maintain in the field.
Allied Motion's engineers developed versions of our frameless Quantum and HT series servo motors for the propulsion and arm axes of an IED search and disposal robot. Allied's design team optimized the motors in order to maximize torque production at lower speed and give the robots reserve power for climbing uneven terrains and rock strewn slopes.
Multi-Mission Military Robot
Accommodating multiple heavy payload types, and able to perform multiple mission types (explosive ordnance disposal, route clearing, reconnaissance, and more), multi-mission robotics are designed to rapidly negotiate rough terrain and even climb stairs while handling heavy payloads.
Allied Motion supplies rugged frameless brushless DC torque motors used in robotic arm motion, as well as outer-rotor BLDC motors for track chassis motion on multi-mission robots.
Mid-Range Munition Guidance System
The Mid-Range Munition (MRM) is a precision guided munition fired from a tank. The MRM will autonomously attack battlefield targets with pinpoint accuracy at beyond line-of-sight ranges of 8+ km (5+ miles).
Allied Motion engineers developed special motor-encoder units for the MRM capable of withstanding very high g-forces. The motors control the motions of an "eyeball" seeker head platform nestled in the nose of the MRM projectile.
Mobile Weapons System
Remotely operated weapons platforms enables a gunner to remain protected inside his or her vehicle while accurately operating this computer-stabilized, laser-aimed, remotely-mounted weapon.
Allied Motion's frameless Megaflux torque motors control three sets of azimuth and elevation axes, while our Quantum servo motor powers the weapon's cocking actuator. The result is fast, accurate firing with the weapon's operator safely controlling the weapon remotely.
Space Station Experiment Module
Allied Motion engineered a large custom 560 mm (22 in.) diameter torque motor with encoder for the International Space Station. The motor was designed to power a 2.5 m (8.2 ft) diameter centrifuge rotor capable of providing artificial gravity levels ranging from 0.001 to 2 g. The intended application of the 1875 kg (2 ton) centrifuge was experimentation in microgravity using such diverse objects as small animals and semiconductor crystals.
Mobile SATCOM Motion System
Broadband communications with on-the-move vehicles on land, at sea, or in the air, are now a reality thanks in part to advanced motion systems that enable very accurate satellite tracking, even as vehicles experience high dynamic levels of motion and vibration.
Allied Motion's frameless Megaflux torque motors enable tightly integrated yaw, pitch and roll axes in SATCOM antenna systems. Mated servo drives are also integrated with the motors in some cases making for extremely compact designs.