Missile & Munition Programs
Aerospace & Defense Motion Solutions
Allied Motion's library of mil-spec qualified motors & actuators for fin control, seeker motion and high-G gun hardened applications support new and legacy munition programs.
Programs with Allied Motion Solutions:
AGM-88 HARM
AGM-65 Maverick
AGS-155
AGM-154 JSOW
AIM-120 AMRAAM
BGM TOW Launcher
GMLRS
M-47 Dragon Anti-Tank
MIM-72A Chapparal
Paveway III
RIM 66 Standard Missile
SM-2
Stormbreaker (SBDII)
Tactical Tomahawk
Allied Corporate Overview
Electric Steering & Traction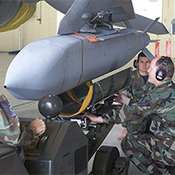 JSOW Missile Seeker Head
Allied Motion engineers designed a high resolution motor-encoder, limited-angle actuator to meet the extremely demanding requirements of modern smart standoff weapons such as the JSOW missile shown here.
The CM-900 positions an infrared imaging seeker, a critical part of the weapon's precision autonomous guidance system.The CM-900 includes an 18-bit absolute encoder and limited-angle torque motor. The encoder has a high bandwidth 2000 Hz (word rate) serial interface for high resolution and high speed positioning.
Mobile Remotely Operated Weapons System
Remotely operated weapons platforms enables a gunner to remain protected inside his or her vehicle while accurately operating this computer-stabilized, laser-aimed, remotely-mounted weapon.
Allied Motion's frameless Megaflux torque motors control three sets of azimuth and elevation axes, while our Quantum servo motor powers the weapon's cocking actuator. The result is fast, accurate firing with the weapon's operator safely controlling the weapon remotely.